FREE List of Kitchen Must-Haves
Planning gifts for loved ones, updating your kitchen equipment, organizing a wedding registry? The Complete Kitchen Essentials Checklist is a guide to navigating the equipment every kitchen needs. Download this handy list.
Free Kitchen Essentials Checklist
Sign-up to receive the Complete Kitchen Essential Checklist and discover gift ideas for yourself and your favorite cook. Get the list delivered right to your inbox.
Supper Sanity provides recipes and meal planning tips, but another vital topic is equipping a kitchen with essential tools that help get the meal on the table. The Kitchen Essential Checklist is a guide for beginner or skilled home cooks. I use my experience cooking for a family of five for 25+ years, entertaining, and working at Sur La Table to create this list. An interior designer and a chef also reviewed the kitchen checklist. It is a great starting point to think through your cooking needs. Sign up to receive the list and begin your wish list and buying strategy for you or the family cook.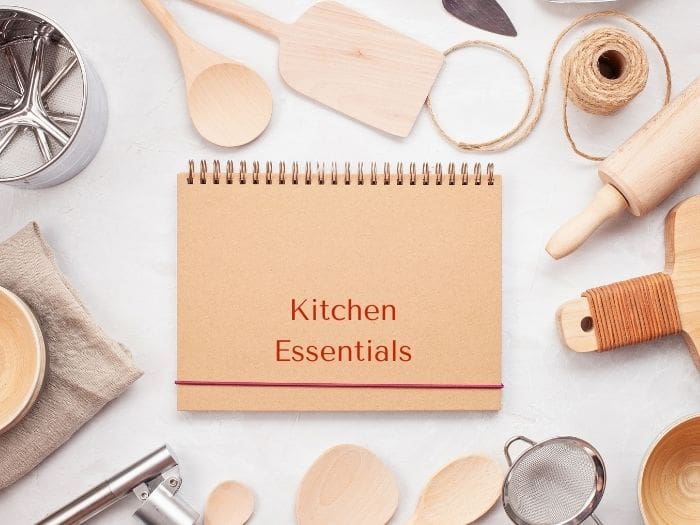 Kitchen Essentials Tool Categories
Cookware 
Appliances & Electrics
Cutting Tools 
Kitchen Utensils
Bakeware
Kitchen Gadgets
When to Purchase New Kitchen Gadgets or Upgrade Cooking Tools?
If any of the following scenarios resonate, it may be time to take stock of your kitchen equipment.
Wedding Registry – Congratulation! Now's the time to get the cooking tools you want and need. Your wedding guests love to buy from a curated list. 
Wedding Jealousy – You've recently purchased a wedding gift and discovered that you also need to upgrade every kitchen appliance on the bride and groom's wedding registry list.
Just Because – tired of using nonstick pans that stick, split wooden spoons, and cookware hand-me-downs.
New life – new kitchen – new apartment, moving, graduating, recently independent, marriage, interest in upping your cooking game, or other life events means buying new cooking utensils and gadgets.
Remodeled kitchen – your recent renovation needs new kitchen tools that match the look.
Downsizing – going to a smaller kitchen requires cooking basics that offer more utility.
Dishware, barware, serving pieces, and flatware are also needed, but I keep the list to cooking equipment. Brides wedding registry guide includes dining, entertaining, and household items.
My Favorite Kitchen Essentials
 1) Instant Pot for quick meals; 2) Dutch Oven for soup and chili; 3) Sheet pan for roasting; 4) Food Processor for meal prep. The below recipes use these tools.